Business IT Services
Albury IT Solutions offers a full range of business IT services, including managed contracts and fixed price services. We are also happy to work on a per-incident basis.
Whichever way you go, we provide fast and effective service for all of your IT problems. We understand downtime of IT equipment costs money and if computer systems aren't working effectively, businesses suffer the consequences. Our primary goal is to keep you and your business working. We aim to implement solutions which will suit your requirements now and in the future with expansion usually becoming one of the biggest factors in any IT solution. Albury IT Solutions is committed to making your life as simple and hassle free of IT problems as possible.
We are different from other IT support providers because we are proactive, not reactive. We make sure you can rely on your IT, we believe that prevention is better than cure
Server Installations & Maintenance
System troubleshooting
Network maintenance, support and installation
Network security and configuration
Offsite data storage and recovery
Terminal services and remote management
All repairs to desktop, laptop and server hardware and software
Sales of hardware and software including upgrades
Website design and hosting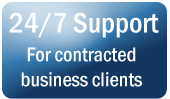 Albury IT Solutions
ABN: 22 156 058 525
02 6023 1294
info@alburyit.com.au