About Albury IT Solutions
Albury IT Solutions was founded from the service arm of Leading Edge Computers Albury. Now a separate company, we continue to uphold the three original core values of quality, service and affordability. With these aims in mind we strive to provide the highest of customer satisfaction.
Albury IT Solutions, is a Albury based and family operated company. We are committed to providing valued based professional services. Our aim is to build a long term, mutually rewarding partnership with you, our client.
Our technicians are specialists in Microsoft and Apple technologies, specifically in the small business sector, they hold a number of industry certifications.
Whether it's a major crisis or just a simple problem call Albury IT Solutions for all your emergencies and a fully trained IT Specialist will be dispatched as soon as possible to get your business back up and running.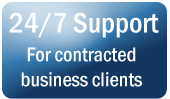 Albury IT Solutions
ABN: 22 156 058 525
02 6023 1294
info@alburyit.com.au